Content-driven SEO Does the Trick for Custom MMIC
Posted on Thursday, October 03, 2019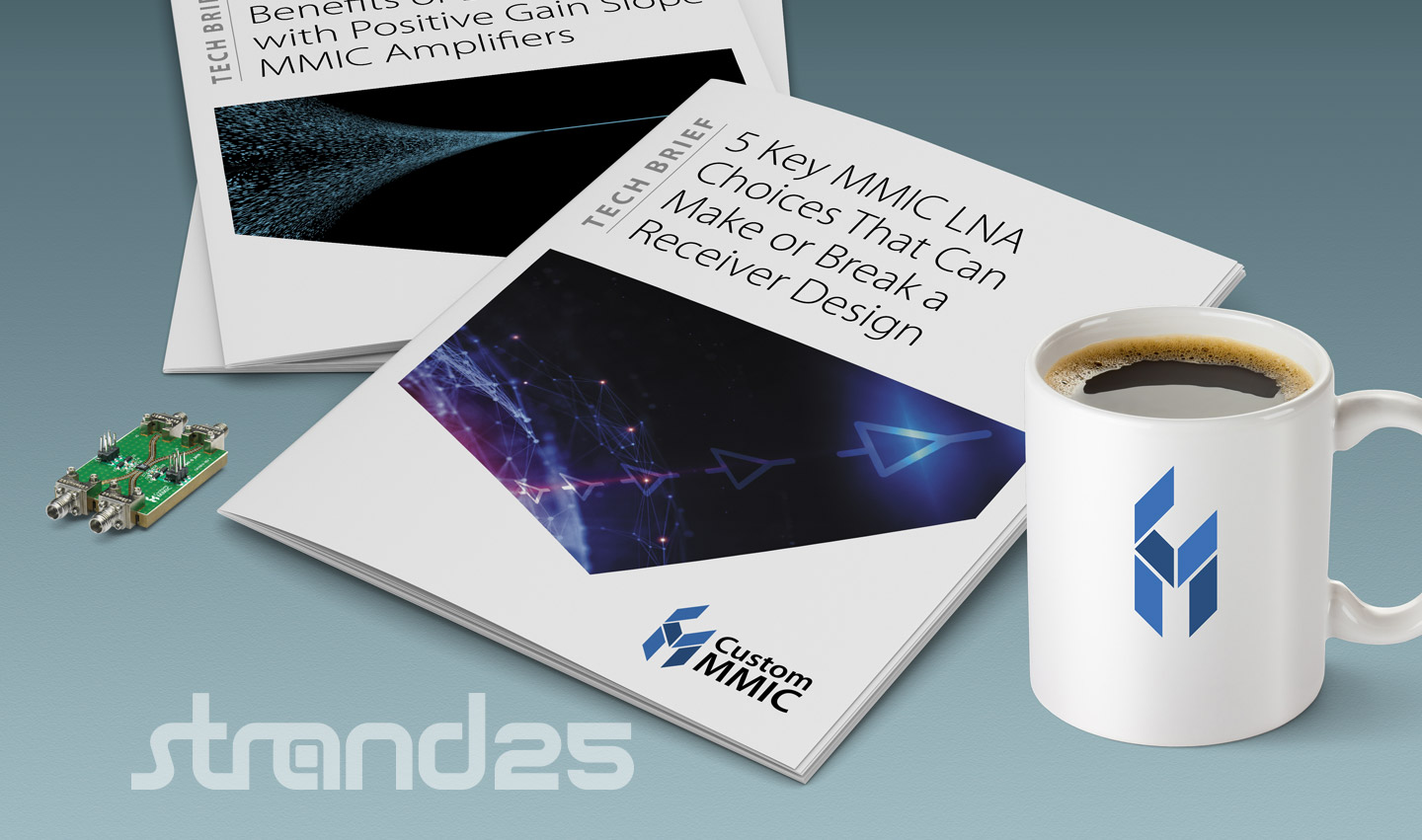 While throughout our spotlight series we'll be doing a little trip back in the time machine, we'll also be bringing you stories of some our most recent achievements.
A client since 2011, Custom MMIC, has been steadily grabbing an increasing share of the RF and microwave industry's MMIC business—fueled primarily by the fact that they make the best MMICs around. But they're also fueled by the consistent and committed demand generation campaign that we've been running and fine-tuning year-over-year.
While we're very proud of all the exciting and creative advertising and PR work you may have seen throughout the electronics industry (some of which is displayed here in their client snapshot), today we're going to focus the spotlight on the less sexy, but critical component of their campaign—search engine optimization (SEO)—and the incredible success we've had in achieving numerous page 1 rankings for them on Google.
While we can't tell you the exact recipe, of course, suffice to say the traffic to their website from our SEO strategy has played a significant role in bringing them new opportunities every day from around the world. So how did we do it? Here's 3 best practices we've been executing upon that have had a major impact on Custom MMIC's SEO success.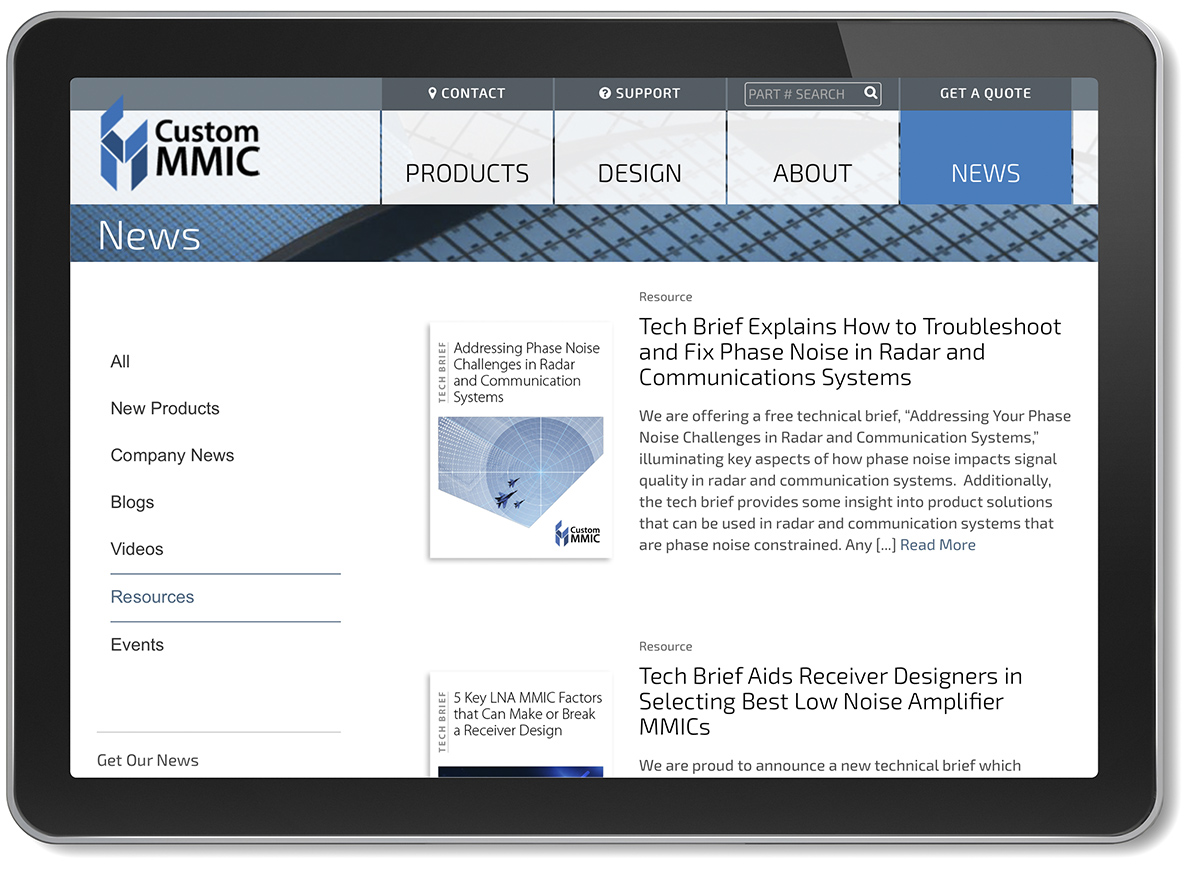 Content IS king.
We know, it's a bit cliché, but it still rings true. In the age of artificial intelligence and machine learning-based search engine algorithms, what stands out as the number one factor impacting every high ranking tech company's search engine result page (SERP) is the breadth, depth, and value of their content. They've masterfully published White Papers and Tech Briefs, parsed them up into blogs and feature articles, and syndicated them by introducing them via press releases, and promoted them in their digital advertising. They do the little things like putting keywords in headlines, URLs, image alt tags, and PDF file names, and adding hyperlinks in HTML and PDF copy, knowing search engines will sniff these details out and add more "link juice" to those pages. They take the time to think like their customers and approach their presentation of information like a journalist looking to teach and inform. They offer design-for-manufacturing (DFM) tips, innovative design approaches, and the like. And they steer clear from publishing "evergreen" content (generic content geared primarily for attracting SEO bots) as much as possible. All to ensure their prospects are intrigued by the content being served up to them today, and that they stay hungry for more.
View Custom MMIC's library of resources, news, blogs, events, videos, etc., (in SEO terms, this an example of a keyword cluster) to get a hint of the depth of their content >>
Integrate your PR, social media, and digital advertising tactics with your SEO strategy.
As an agency with a long history of architecting and executing fully integrated marketing campaigns, we've always operated under the principle that each tactic should be spiritually and physically interconnected with each other to create maximum impact. Regarding SEO, let's start with the pure value of your content getting indexed not only as URLs within your website, but also dozens of other online industry resources as a result of the news you've announced on products, technology, and company achievements. Your chances of getting indexed on page one of a Google SERP are logically greater when your content is present in many places on the web. Second, let's talk backlinks. They're still a demonstration of popularity, despite the bad taste the black hat SEO world has put on them. But what's critical is to put on your SEO "white hat" when implementing them. This means ensuring your backlinks come from reputable websites with a long history of complying with Google's E-A-T (expertise, authority, and trustworthiness) factors. Since most every vertical high-tech and industrial market has a handful of dedicated print publications—each with its own website, digital version of their magazine, blogs, forums, storefronts, video libraries, and directories—building PR and social media relationships with the editors and content managers at each of these publications has to be a core part of your SEO strategy, too. Build relationships with the ones that matter most, follow them on social media, and watch your quality backlinks grow incrementally over time with each new press release, and Twitter and LinkedIn post.
Think about responsiveness for those on mobile devices — and download speed for all.
We take pride in the praise we get when someone hears that we're the agency behind the Custom MMIC website. They often mention how intuitive the user experience (UX) is, and how appealing the design is. And we admit, we love to hear that. But what's behind the scenes are 2 other subtleties that ensure their SEO success. First, is that the site loads fast for a site with a growing catalog of products and so much content. Second, is that we've properly designed the user interface (UI) to respond when a visitor is viewing the site from a mobile device such as a smart phone or tablet. Plain and simple: Google likes these two things (and backlinks) and favors those that implement them.
So, that's it. 8 years of SEO success in 900 words or less. Let us know if you're ready to jump to the top of the SERP. (Don't worry, it won't take 8 years.)
Next Steps:
Learn more SEO and demand gen tips in our blogs at: https://strandmarketing.com/updates/blogs/