The flood of red that put Allied Vision [deeper] in the black
Posted on Thursday, August 22, 2019
In this first of 25 installments of our favorite work over the last 25 years, we offer a glimpse at one of our most successful high-tech advertising campaigns.
When we were first introduced to Allied Vision, they had just opened a U.S. headquarters here in our hometown North of Boston in Newburyport, Massachusetts. The German-based designer and manufacturer of industrial, medical and scientific cameras was looking to make a concerted effort to penetrate the North American market with their leading-edge products. After assembling a small sales and support team, they brought Strand on as the U.S. advertising agency to design and produce an integrated print and digital campaign. The objectives were to build awareness of this machine vision camera company's incredible technology and suite of solutions, and to fill up their new sales team's pipeline with high quality business opportunities. What follows are a few advertising samples of the exciting work we produced in this incredibly successful integrated campaign.
The integrated advertising campaign began with an inspiration to give their cameras a memorable and meaningful personality while also creating a dramatic backdrop that tied directly back to their brand palette of black and red. Thus, was born the "red campaign" as we affectionately called it around here. The first ad in the series was the "Guppy Gumball Machine" ad. It nailed the guppy's small size, versatility and relatively low cost.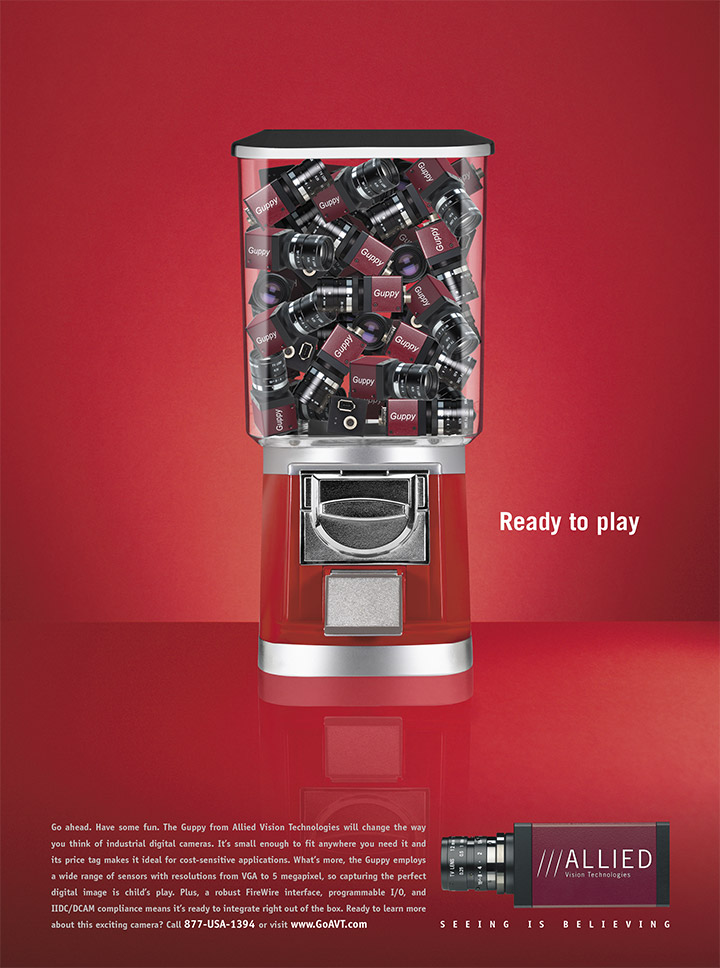 What followed was a series of product focused ads that creatively positioned each camera's feature/benefits and portrayed them as a unique problem solver.
Along the way the way, Allied Vision made the key acquisition of Prosilica, an innovative GiGE technology camera designer and manufacturer in Canada. Our task was to introduce this new camera brand and position these cameras within the family as an extension of their growing technology line up.
Within just a few months of the print and digital advertising campaign the response was overwhelming and Allied Vision made our creative approach the choice for their entire global marketing campaign. This resulted in us designing and delivering all new tradeshow booths and graphics and an innovative evaluation kit spotlighting their commitment to this critical hour during the sales process.
We're excited to report the campaign was a complete success. In the 8 years the campaign ran, Allied Vision's North American market share was among the top 3 in the machine vision market and the company grew tremendously, going on to make other key acquisitions and targeted sales that did the same for their global market share.
This campaign also won Strand and Allied Vision a Creative Excellence in Business Advertising Award.
We hope you enjoy the next 24 spotlights on some of our favorite work, as we celebrate 25 years in business.
For a closeup look at some of our most recent work, check out our client stories in our work section.